We are a manufacturing enterprise with privately owned workshop, warehouse and factory store.
We Sell + Install all sizes of interior/exterior DOORS & Closets and Deliver in our special Cargo Vans.
1. Offer in-home consultation to discuss configurations and design of your DOORS & Closets
2. Perform measurements of your doorways and closets (dressing rooms)
3. Produce DOORS & Closets according to the unique sizes and design for your home/office/commercial properties
4. Pre-hung and prepare all the hardware/accessories for your DOORS & Closets
5. Deliver and Install. * No debris, no time lags, no extra charges!
! Provide a 2-year warranty
* Repair services 7 days a week including weekends & holidays
Door Configurations
Single SWING doors
The system consists of door slab, a box, jambs and casings (if necessary), feigned levels, and also hinges is traditional and most frequently used option. In this case door slabs can be the same size or differ on width. As a rule, one of shutters is a worker, another plays a role additional, opening or tightly closed. Double swing doors organically fit practically into any interior. They are simple and convenient in operation. The only complex is that movement radius of slabs takes much space, especially, if doors are rather wide.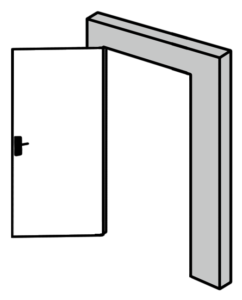 Advantage of Swing door
It consists of door panels, boxes, transoms (if necessary), sham straps and hinges. In this case, the webs may be the same size as or different from each other in width. As a rule, one of the flaps is working, the other plays the role of an extra, open or tightly closed.
POCKET doors
Pocket doors are fancy and modern style of door that naturally saves space. Sliding pocket doors were very popular with turn of the nineteenth century builders and they can be seen in different style and design such as double pocket door, pre-hung pocket door, wood pocket doors. Like other doors, interior pocket doors could be custom-built and can come in different form like folding, frosted, glazed, double French, bypass, bifold.
Sliding pocket doors solve space problems. They can be used in a tight location in any part of the house where a swinging door is impossible and where an inverted or out-swinging door is not a perfect solution.
Also, an interior pocket door could be used in space where hinge doors could be an obstruction. This is typical to laundry room, bathroom, closet and bedroom.
A double pocket door could also be an ideal solution to create a divider between adjacent and relatively large rooms such as the family room and living room. This way, the division between the rooms could be defined yet that same divider could be used to effectively extend the area of the rooms.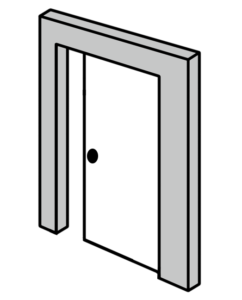 A pocket door simply slides into a frame in the wall, freeing up a great deal more of the room and opening up the design possibilities. Changing your old door to a pocket door is a fancy way to enhance your room's modern look without going for unwanted designs. A pocket door will simply blend in with your room and also complement your home décor. You can use pocket doors on any space as a way to save much needed space. Browse through our solid core, sound proof, high quality and modern pocket doors that fit your budget.
BARN doors
Barn doors are no longer restricted to just barns. They are now becoming the first choice for doors in several top class buildings and homes. They give a home a contemporary look. They can be use has both interior and exterior door of a home. They give a home more aesthetic value and also create more space in a home. There is a growing demand for barn doors and our company has these doors in different design and style such as: sliding barn doors, closet barn doors, barn wood doors, indoor barn doors and bypass barn doors.
Sliding barn doors are easy to install, they eliminate the creaking sound most regular doors make. They are easy and smooth to operate and give a home a more distinct look. Barn doors are available in different types of design and materials. For a more modern look, the sliding barn door can be used.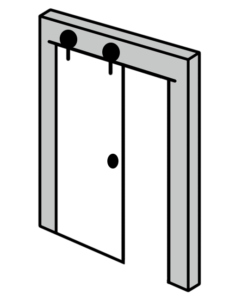 Benefit of using Barn doors
⦁ These doors are durable and strong being made of solid steel tracks. They can hold weights up to 400 lbs and can last for a lifetime without being faulty or due for replacements.
⦁ Because these doors are durable, they are very easy to maintain, saving you both money and time.
⦁ They are versatile and can be utilized in different ways like closet barn doors or bypass barn doors, for stylish living room, or for closing off certain rooms like master bedroom, laundry room and libraries.
⦁ Their rustic appearance and feel boost the style of any room and the overall appearance of any house. When it comes to adding doors to create more formal and private rooms, barn door is the best option for you.
BYPASS doors
Don't have enough space? Do you want to create a new modernized look for your room or maybe covering up your stuffed closet? Fret no more, we got you covered. Quit the old hinged doors and save your space by using our sliding bypass door. These door are perfect for use in any situation whether you want to install it as a regular door for your room or closet or any other space for that matter.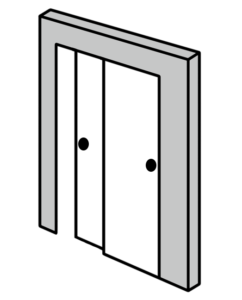 Advantages of Bypass doors:
⦁ Saving space
⦁ Stylish and Spacious look
⦁ Unique designs
MAGIC door System
Thanks to the unusual appearance, an original design and the compact sizes, magic door slabs are capable not only to change and save space, but also to become the real decoration of an interior. Magic system differs from standard sliding – movement of a door happens along a doorway, and all mechanism is hidden behind a door slab. There is no need for installation of a decorative level on a wall for protection of a guide against damages.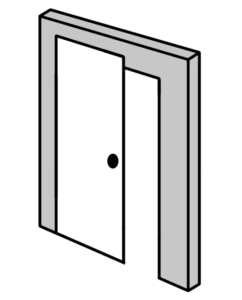 Advantage of Magic system
The magic system differs from the standard sliding the fact that the movement of the door takes place along the door opening, and the entire mechanism hidden behind the canvas. There is no need to install trim strip on the guide wall for protection against damage.
Bi-Fold door System
Bifold doors are a perfect and practical choice for small spaces in the home. There's a variety of finishes from which to select, including wood veneer, rustic, single, mahogany, oak veneer, paneled, pocket, pre-hung, double glazed, frosted, hard and several others. This door can be used in almost all areas is the room like laundry room, living room, bathroom and bedroom, it's equally perfect for areas where there is no enough room for swinging doors. A bifold door is versatile as it has a left and right section, which connects in the center in an unfolding action. This gives the opportunity to open the door either from the left or right side.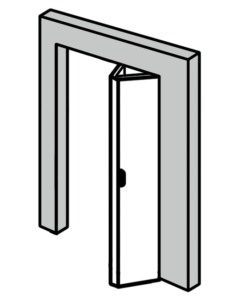 Advantage of Bi-Fold system
These amazing doors can also be very useful between rooms that don't have doors and transition into other areas, such as kitchen. It's also very easy to combine two bifold doors to come up with one larger door. Bifold door comes in different styles such as bifold french doors, louvered bifold doors, custom bifold doors, folding sliding doors, folding doors interior, wooden bifold doors, bifold closet barn doors, modern bifold closet doors, solid wood bifold doors and other combinations of styles, making them easy to blend with previously owned doors. There are several varieties from which to choose from, and they will definitely add elegance and style to any home at an affordable cost.